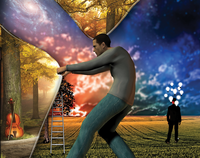 IoT for IT
Alternate Reality
The Internet of Everything, a fully networked and analyzed society, seeks to enhance the quality of life of all people and drive new technologies, products, services, and markets. But where are developments headed, and what are the driving factors, fields of application, and challenges?
To begin, two concepts need to be distinguished: The Internet of Things (IoT) and the Internet of Everything (IoE). You might think that these two expressions describe the same thing: well, yes, but with tiny differences.
IoT describes networking of everyday things that are not yet online (dark assets, e.g., domestic electrical appliances, traffic lights, online classrooms, and fully networked industrial production, in which goods are no longer stockpiled but are automatically delivered and dropped off the production line to reflect the customer's wishes). IoT is about digitization of the non-digital world. In the fully digitized world, sensors collect data (temperature, motion, vital signs) and deliver it to huge data centers. However, this is where the definition of IoT ends.
IoE comprises IoT plus analysis of accrued data, preparation for downstream processing, suitable processes, and production of meaningful reports. Therefore, it is not only about digitization, but about meaningful analysis of the data, which can then be processed downstream for different purposes. As early as 1991, computer researcher Mark Weiser envisaged this scenario, describing it as "ubiquitous computing" [1].
Third Wave of the Internet
Whereas the first wave of the Internet in the 1990s was initially all about extending the infrastructure to private households and commercial users, after the turn of the millennium, the IT industry needed new online services to ensure the future of the Internet as a growth market. Meanwhile, about 88 percent of North American households are online [2], and a certain degree of saturation has been reached. The picture is similar with other Internet services: Almost everyone uses services such as email [3].
Both the service provider industry and hardware manufacturers need new markets: one group to create new services and retain end users, and the other to sell newer, faster, and better hardware to the service providers. From this perspective, IoE seems almost to be a panacea in an age of sales drops. It opens up new markets in completely new dimensions and is a greenfield for innovators, entrepreneurs, and service providers of all kinds. In his last keynote as CEO of Cisco at Cisco Live 2015, John Chambers pegged IoT/IoE opportunities at $19 trillion [4], which will be spread to all sectors of industry over the next 15 to 20 years. Everyone wants a piece of this cake.
New Markets
Early trends, indicating where the industry is headed, are already visible: The idea is to reinforce customer loyalty in existing markets, such as retail, by making purchases easier than ever before and delivering the goods, rather than offering them in shops. For this to happen, however companies need more customer data that allows them to draw conclusions on the basis of personal preferences and satisfy those preferences in a more targeted way. Already, existing evaluations of web browser metadata are being enriched with information from Facebook or Google to get a clearer picture of customers, but companies need even more data from consumers, especially from previously unknown areas of their lives: motion profiles, hobbies and interests, leisure behavior, and usage profiles from all types of media.
The auto industry, for example, does this on a large scale, starting with communication between cars to inform drivers about traffic data, to provide driver information and assistance systems that support the driver when parking, and to keep a vehicle in a lane or regulate its speed with built-in sensors. Premium brand automobile manufacturers have incorporated fault-sensing systems into their models that report problems in advance of the next service station and guide the driver to it using the navigation system. The autonomous car is no longer fiction or just technically feasible, it is being tested on live roads.
For municipalities, IoE also seems to play a significant role; Cisco Systems recently presented 90 globally distributed community projects (Figure 1) at a recent Cisco Live, of which Kansas City has one of the flagship projects [5]. This project, for example, aims to deploy fully networked traffic management systems (roadside systems) capable of automatically calculating freeway tolls through license plate recognition. Checking train tickets online in public transport is also being promoted.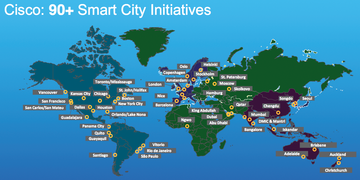 Other projects in the field of traffic management systems plan to find parking lots relatively close to a vehicle's current location and route the car to them via the navigation system. Similar projects, which also build on close-knit expansion of all kinds of sensors in communal areas, aim to help save energy through adaptive street lighting, depending on whether a pedestrian is on a section of road at any given time.
Energy suppliers are involved in performance tuning by electronically monitoring the power consumption behavior of households and industrial enterprises (smart metering) right down to the level of individual consumers (e.g., TVs or refrigerators), thus making it possible to deliver precisely the amount of power needed at any given time, which in turn makes power cheaper. The metering data acquired in this way is transmitted over existing power lines via smart grids to the utility's data center. Households are then "connected smart homes," in which not only the power supply is managed, but the lighting, heating, radio, and TV programs also can be intelligently controlled through "home automation."
Bill Gates' vision of the smart home dates back to 15 years ago, and it is now within grasp. Home automation tools that help adjust to high-energy consumers, such as heating, coordinate switch-on times when family members make their way home and switch-off times when the last inhabitant leaves the house.
Implementation in Stages
Chambers' vision sees development over the next 20 years – shifting away from the information age to digitization – as a multiphase model: Connect -> Collect -> Analyze -> Decide. According to Chambers, we are currently in the Connect phase, in which dark assets are being brought online. The subsequent phases will be introduced gradually, and partially in parallel, within the respective application areas. The outgoing Cisco CEO predicted the digitization of all areas of life as an unavoidable global development that requires the adaptation of processes, corporate cultures, and technologies – IT included. Above all, development time in IT needs to be greatly accelerated (Fast IT).
Meanwhile, IT security can be seen as an integral part in all phases, and not as an add-on. Chambers also predicts that by 2020, only about a third of all companies that are trying to make the leap into the digital age will be successful, because they will fail to reinvent themselves and drive the necessary innovation. The successful transformers will thus share the new markets and generate new jobs, ultimately to create improved living conditions for the citizens of digitized states and municipalities.
Although this transformation of the workplace situation will create new jobs in which new or different skills are required, other jobs will disappear. Moreover, the way we collaborate, take part in leisure activities, and social life in general are developing in a new way in which we will all have much more information about our fellow human beings.
comments powered by

Disqus
---
---
---
Support Our Work
ADMIN content is made possible with support from readers like you. Please consider contributing when you've found an article to be beneficial.
---