Using a Tablet as a Portable Management Console
VNC
Some sys admins avoid using or allowing Virtual Network Computing (VNC) on their networks because of its higher bandwidth requirement compared with that of RDP, PCoIP, or Citrix ICA. However, its bandwidth usage has improved with maturity because of various compression techniques. The other issue that sys admins have with VNC is that, by default, it is less secure than comparable protocols, although users can set up tunneled connections that remove that complaint as well.
Both RDP and VNC are cross-platform protocols. System administrators may select a single protocol to run remote displays on their networks and select one protocol over the other for various reasons. If you use VNC, you have fewer choices on the iPad for client software, but the ones that exist are all good.
As stated earlier, you can use iSSH for tunneled VNC connections or select a separate VNC client with which to connect to VNC servers.
The VNC client app that I use is MochaSoft's Mocha VNC. There is a free version VNC Lite and a paid version, VNC (US$ 5.99). The paid version has keyboard and mouse enhancements that any sys admin would want in a VNC client. By comparison, the Lite version has too many disabilities to be useful for heavy users of VNC.
One particular feature of Mocha VNC that I really like is that during a new remote system connection setup, the app browses the network and allows you to select your VNC server system from a list. Unfortunately, the browse action is a NetBIOS browse and not a VNC server browse, so you'll have to know beforehand which system you want to select. Although not perfect, the browse utility, is still saves time and confusion for a busy sys admin.
The Mocha VNC app also has a Wake-on-LAN (WoL) feature that is handy for connecting to systems that users have powered down.
Note: MochaSoft also has an RDP app that has features similar to its VNC app: WoL and NetBIOS browse.
Figure 5 shows a Mocha VNC client connected to a Windows Server 2003 system. Along the bottom of the screen is the widget toolbar, which from left to right are: Extended keyboard, extended keys, utilities, Enter key, full screen, and screen lock.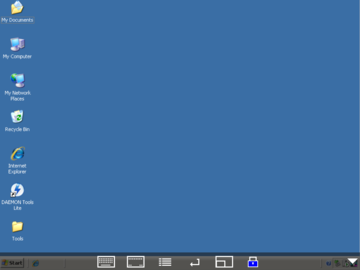 I prefer to set the screen to full and lock it as soon as I connect to a remote system using this app so that any mouse movements don't cause the desktop to move around the iPad's screen.
Web Browsers
If your corporate intranet uses Flash or Java for some of its sites, you'll need a better browser than Safari to navigate them. Several browsers for the iPad can handle Flash. The downside is that they're all cloud-hosted external browsers, which might not work under some conditions on your network.
The Puffin browser (Figure 6) is a fast, clean browser to try and for only US$ 0.99, it's an inexpensive connectivity test.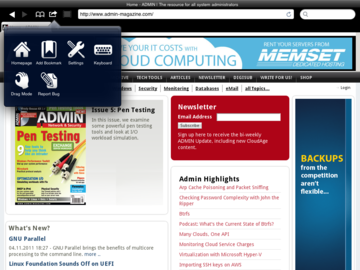 Puffin is also an excellent tool for connecting to web-based desktops that require Flash or Java support. Its clean design stays out of the way so valuable screen real estate isn't cluttered with browser toolbars and buttons.
Companies have replaced the old traditional desktop tower with laptops. Laptops have long been billed as the take-anywhere device because of their inherent mobile capability. Although size, weight, and short battery life have kept them from fulfilling that ultra-mobile dream, they are portable and they do make good mobile desktop computers but with certain restrictions: the need for electrical outlets and a WiFi access point or wired connectivity.
Alternatively, tablets are ultra-portable, have long battery lives, and require no wired or WiFi connectivity to be useful. The days of tablet computing and using tablets as sys admin support tools are here. The problem for you, the system administrator, is that this new accessibility to the corporate network and its resources means more accessibility to you as well. The days of proclaiming that you "Couldn't get a signal" are rapidly coming to an end, and your days of untethered access are gone. The upside is that you can play a few rounds of Angry Birds between calls.
comments powered by

Disqus
---
---
---
Support Our Work
ADMIN content is made possible with support from readers like you. Please consider contributing when you've found an article to be beneficial.
---