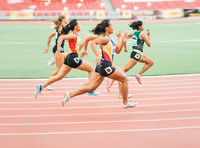 Quick UDP Internet connections
Fast Track
The UDP-based Quick UDP Internet Connections (QUIC) protocol comes with mandatory TLS encryption and promises faster speeds.
The Quick UDP Internet Connections (QUIC) protocol [1] originated in 2012 as a Google project led by Jim Roskind to improve security and performance over TCP. The protocol made the leap to four Requests for Comments (RFCs) [2]-[5] under numbers 8999 to 9002 in 2021 after a good five years of development at the Internet Engineering Task Force (IETF). In addition to Google, developers from Fastly, Mozilla, and others participated in the development of the transport protocol at the IETF.
However, QUIC is not just of academic value, as is shown by the first application protocols on which it is already based. For example, the third version of the Hypertext Transport Protocol (HTTP/3) uses QUIC. The first drafts of the Session Initiation Protocol (SIP) successor Real-Time Internet Peering for Telephony (RIPT) for voice over IP (VoIP) networks are also based on QUIC, and both are expected to increase penetration rapidly in the near future.
Specifics and Areas of Use
QUIC is considered a potential TCP successor, but netizens in particular are finding it difficult to appreciate because it merges OSI Layer 4 (transport layer) and Layer 5 (session layer), which breaks with old paradigms. QUIC is basically based on the connectionless User Datagram Protocol (UDP) and uses UDP port 443. However, QUIC itself has a connection-oriented architecture.
In version 1, the protocol is said to enable a change of the communication path during an ongoing session, which could be interesting in mobile scenarios. Mandatory TLS 1.3 encryption is intended to ensure confidentiality, integrity, and availability, which is equivalent to the security-by-default approach. Additionally, it is intended to avoid interference by active network components on the
...
Use Express-Checkout link below to read the full article (PDF).
comments powered by

Disqus