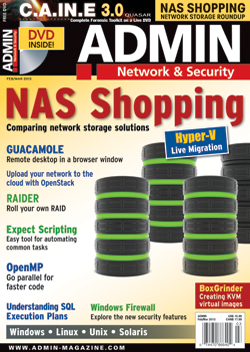 Issue 12: NAS Shopping
In this issue, we compare NAS storage, convert Linux partitions to RAID, and control desktops remotely with HTML5.
Download this issue as a PDF:
100 pages
Price $15.99

Don't miss an issue of the magazine for admins! Subscribe now!
Issue #12 will be shipped to subscribers and available on newsstands starting approximately:
UK/Europe: December 17
North America: January 11
Australia: February 11
NAS Storage Roundup: We compare six NAS storage devices for workgroups or small business.
Raider: Convert simple Linux partitions to a RAID system with Raider, mdadm, and several common Linux tools.
Guacamole – Remote Desktop: Access applications remotely on the LAN with Guacamole, an HTML5 web app.
PHP-FPM: PHP-FPM, an alternative to mod_php, uses the FastCGI interface to run PHP programs on a web server.
Save time and simplify your workday with these useful tools for real-world systems administration.
Intro to OpenStack 2012.2: The new Folsom cloud environment gains a more formal framework and an expanded modular architecture.
Quagga: Help your router find the optimum path through the Internet automatically with Quagga and the Zebra daemon.
Windows Firewall: Acquaint yourself with the simple and advanced views of the Windows desktop firewall.
openlava Workload Manager: This open source resource manager is scalable and easy to install and customize.
Execution Plans: Cure database performance problems and optimize SQL queries by mastering execution plans.
Virtual environments are becoming faster, more secure, and easier to set up and use. Check out these tools.
Building VM Images: BoxGrinder and VMBuilder automate the process of building virtual machines.
Hyper-V Live Migration: Microsoft simplifies live migration and improves high-availability options with the newest Hyper-V release.
phpVirtualBox and RemoteBox: Remotely manage VirtualBox in a graphical user interface with a PHP or Perl/Gtk implementation.
Use these practical apps to extend, simplify, and automate routine admin tasks.
Netcat: Don't overlook the versatile Netcat when you're looking for a port-scanning, whitehat security, client-server, tunneling tool.
Expect Scripts: Automate daily mundane tasks with the Expect automation scripting language, then create Expect scripts automatically with the Autoexpect recorder script.
Timely tutorials on fundamental techniques for systems administrators.
OpenMP Programming: This introduction to OpenMP programming will help you parallelize your code.
TCP Wrappers: Instead of using a firewall, secure your servers with TCP Wrappers and run-time reconfiguration of Access Control Lists.
Performance Tuning Dojo: Use internal timekeeping facilities to help optimize your systems.
Find out about the latest ploys and toys in the world of information technology.
News: Combat cyberattacks with four simple strategies; Penguin PowerInsight; risky out-of-date browsers; wanted: security experts.
New Products: ROSA server; SaaS Maker; Storwize V3700; Lastline Previct.
* Google Play Magazines available in AUS, CA, FR, DE, IT, UK, USA
---
---
---
Support Our Work
ADMIN content is made possible with support from readers like you. Please consider contributing when you've found an article to be beneficial.
---