IBM offers a sensational $34 billion for Red Hat
Big Blue Goes All In
Industry opinions are divided on the IBM purchase of Red Hat.
IT giant IBM is set to acquire Linux specialist Red Hat. The purchase price is around $34 billion and is therefore already financially the biggest deal of the year. According to information from IBM, their offer corresponds to a price of $190 per Red Hat share and thus is significantly more than market price. After the acquisition, Red Hat will become an independent unit in IBM's Hybrid Cloud Team, which is intended to preserve the open source character of Red Hat. Red Hat will be able to operate independently of IBM, both in terms of existing business practices and Red Hat-dependent open source projects.
Red Hat CEO Jim Whitehurst will remain in the new unit and report directly to IBM CEO Ginni Rometty (Figure 1) as a member of IBM's top management. The rest of the Red Hat management team will also remain, says IBM [1]. Red Hat has 12,600 employees compared with the 366,000 employees at IBM. The supervisory boards of the two companies have already approved the deal. The consent of the Red Hat shareholders is still outstanding. The necessary approvals from the regulatory and antitrust authorities are also still pending. IBM expects to close the deal by mid-2019.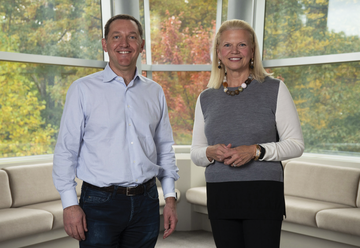 Ingredients for Success
For Red Hat boss Whitehurst, open source is without a doubt the key to success. Whitehurst blogged [2] that, until now, people have only scratched the surface of the opportunities that lie ahead. "Open source is the future of enterprise IT," he says and sees the market volume addressable by Red Hat as $73 billion by 2021. If software is going to assimilate the world, says Whitehurst, open source is the most important ingredient for doing so.
Rometty describes the combination of IBM and Red Hat as a game changer that will take IBM to new heights in cloud and services. Whitehurst and she share a strategic view of the hybrid cloud opportunity. The merger means a reset for the cloud market, taking IBM to the number one spot in hybrid clouds, according to Rometty. (See also the comment in the "Q.E.D." box for an initial appraisal.)
Amazon Web Services, Google, Microsoft – the venerable giant IBM is not currently on the podium in the race between cloud providers. But IBM would like to get on that podium, and to do so, it is swallowing up Red Hat. In the market for hybrid cloud solutions, on which IBM and Red Hat are looking to work in future, IBM boss Rometty sees the opportunity to boost profits that have been declining or stagnating for years.
This is all the more important because it is already becoming apparent today that other fields that raised great expectations (e.g., artificial intelligence with Watson) are not delivering the massive returns once expected. Now IBM is looking to battle its way onto the medal table with cloud solutions.
IBM has been unable to guide a number of previous acquisitions into a bright future, such as Informix, bought in 2001 for $1 billion. As Oracle's main competitor in the database market in the 1990s, it now ranks 26th, and falling, among database engines under IBM's auspices. Lotus Notes, purchased in 1996 for $4 billion has been starving to death for years at the end of IBM's outstretched arm and has not seen a major release in the last five years. The announcement of a new version 10 is only the result of IBM reselling development and support to India's HCL.
With a great deal of courage, IBM is now digging much deeper into its pockets this time and paying significantly more than for any takeover in the company's history, which, of course, enormously increases the pressure to succeed.
On the other hand, Red Hat and IBM are a good match. Red Hat offers competitive products in both Infrastructure as a Service (IaaS) clouds, with its Red Hat OpenStack platform, and Platform as a Service (PaaS) offerings in the form of Red Hat OpenShift. It also markets open source solutions that can alleviate customer fears of vendor lock-in. Red Hat is the most successful open source company in the world, bringing with it size, reputation, and an active community. IBM can open up further market access for the new partner and offer its cloud customers new perspectives, especially in the hybrid cloud sector.
No matter how the takeover ends, there is already one winner: the idea of open source. Free software, it now becomes clear, is necessary, not as a niche for hobbyists and nerds, but as one of the most promising future technologies. IBM is spending more money on free software than a buyer has ever paid for an IT company previously – the only exception being the purchase of EMC by Dell. If proof were needed, it is now on the table: Open source is viable in terms of technology and as a business model and is valuable in every respect. – Jens-Christoph Brendel
Blue Washing
Despite its commitment to independence, Red Hat must fit into IBM's corporate structures. The integration and adaptation of acquired companies into IBM's corporate culture and structures is known as blue washing. Tyler Jewell, who sold his company, Codenvy, to Red Hat in 2017, does not see this process going well for Red Hat [3]. Even if IBM gave Red Hat a free hand for a year, Jewell said, Big Blue would not tread beyond the beaten path. The complicated, bureaucratic company structure will not suit Red Hat, predicts Jewell, the current head of integration provider WSO2. Despite its participation in open source projects, IBM is a patent-oriented group that places commercial aspects in the foreground.
Boost for Open Source
Peter H. Ganten, CEO of the German Open Source Business Alliance (OSBA) [4], evaluates IBM's push positively: "… this deal represents a huge push for open source" [5]. According to Ganten, the dimension of the purchase is something new, even though takeovers have already veered in this direction before (e.g., Microsoft and GitHub).
"This deal shows the market and its participants that nothing works without open source. IBM has been involved with open source software for a long time and has invested a great deal in Linux. The purchase of Red Hat is also a clear expression of customers' desire for more openness in their choice of cloud offerings," said Ganten.
According to Ganten, the merger of Red Hat and IBM has further effects: "Hybrid clouds, which give companies great flexibility in terms of storing and maintaining software; above all, data is becoming even more standardized as a result. We can also see from this that customers no longer want to be dependent on a single provider. Because open source software by definition allows freedom of choice."
comments powered by

Disqus
---
---
---
Support Our Work
ADMIN content is made possible with support from readers like you. Please consider contributing when you've found an article to be beneficial.
---