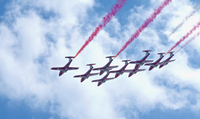 Open source calendar synchronization
Synchronicity
If you use your Google account to synchronize appointments between your smartphone and your desktop computer, you can do this just as easily with an open source solution.
Almost everyone has a Google account, so synchronizing calendars (such as your Thunderbird calendar) between your computer and an Android device with Google seems like an obvious solution. If you enter a date on your Thunderbird calendar, it automatically appears on your smartphone calendar. However, this choice comes with drawbacks: Google makes its money by collecting and evaluating your data, among other things.
Luckily, an alternative based on open source software gives you another option. This alternative option involves Nextcloud [1] on the server, Thunderbird and its Lightning Calendar extension on the desktop [2], and DAVx5 [3] and Etar [4] on the Android device. I did not test the Nextcloud alternative ownCloud [5], but calendar sharing may also work with ownCloud due to its similarity to Nextcloud.
In Figure 1, the user (Kris) shares a calendar (see the box "Sharing Several Calendars") with other users (Alice and Bob) The shared calendar ends up on the Android devices of all participants, as well as on their desktops, which are also running Thunderbird and Lightning in this test. All participants have their own Nextcloud accounts to store their calendars. This not only offers the option of securing the calendars with access data, but each participant can also opt out of the shared calendar and run their own calendars to which other users have no access.
Sharing Several Calendars
There are actually some advantages to sharing multiple calendars. On the one hand, each calendar can be assigned a different
...
Use Express-Checkout link below to read the full article (PDF).
comments powered by

Disqus