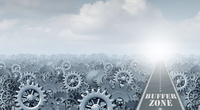 Secure containers with a hypervisor DMZ
Buffer Zone
Container technology security is not well defined. We look at several approaches to closing this security gap with hypervisors and buffer zones.
Containers have become an almost omnipresent component in modern IT. The associated ecosystem is growing and making both application and integration ever easier. For some, containers are the next evolutionary step in virtual machines: They launch faster, are more flexible, and make better use of available resources.
One question remains unanswered: Are containers as secure as virtual machines? In this article, I first briefly describe the current status quo. Afterward, I provide insight into different approaches of eliminating security concerns. The considerations are limited to Linux as the underlying operating system, but this is not a real restriction, because the container ecosystem on Linux is more diverse than on its competitors.
How Secure?
Only the specifics of container security are investigated here. Exploiting an SQL vulnerability in a database or a vulnerability in a web server is not considered. Classic virtual machines serve as the measure of all things. The question is: Do containers offer the same kind of security? More precisely: Do containers offer comparable or even superior isolation of individual instances from each other? How vulnerable is the host to attack by the services running on it?
A short review of the basic functionality of containers is essential (Figure 1). Control groups and namespaces provided by the operating system kernel serve as fundamental components, along with some processes and access permissions assigned by the kernel. One major security challenge with containers immediately becomes apparent: A user who manages to break out of an instance goes directly to the operating system kernel – or at least dangerously close to it. The villain is thus in an environment that has comprehensive, far-reaching rights. Additionally, one kernel usually serves several container instances. In case of
...
Use Express-Checkout link below to read the full article (PDF).
comments powered by

Disqus