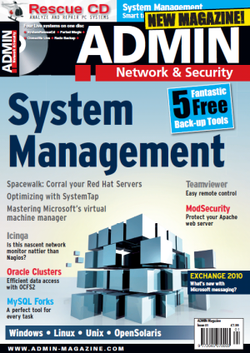 Issue 1: System Management
This issue includes a Rescue CD Toolbox with four fabulous Live Linux Systems: SystemRescueCD, Parted Magic, Clonezilla and Redo Backup!
Download this issue as a PDF:
100 pages
Price $15.99

Table of Contents:
Features
Spacewalk - Walk on air with this free version of Red Hat's enterprise-ready Satellite management server.
Icinga - This is not your father's Nagios fork
MySQL Forks - We investigate some invaluable variations on the MySQL theme
Exchange 2010 - What's new in Microsoft's email and messaging system?
Backup Tools - We round up some of the best open source backup utilities
BlackHat USA 2010 - Learn the latest tricks of network intruders at the BlackHat conference
Tools
OCFS2 - Build a database cluster with Oracle's Cluster Filesystem
Synergy - Too many monitors on your desk? This handy tool lets you control your servers from a single desktop
SystemTap - Optimize and troubleshoot your homegrown apps with this powerful profiling tool.
Virtualization
Package Your Scripts - We show you how to use Debian's packaging tools to deploy and manage scripts in the cloud.
OpenVZ - Container-based virtualization tools like OpenVZ are sometimes more efficient that hypervisor systems.
SCVMM 2008 - Exploring Microsoft's Service Center Virtual Machine Manager 2008
Management
Teamviewer - This popular remote control tool isn't just for Mac and Windows anymore.
Chef - This snappy configuration manager lets you roll out Linux systems with a couple of mouse clicks.
Sysinternals - Get the pulse of your Windows network with this convenient collection of management tools.
Nuts and Bolts
PAM - The powerful Pluggable Authentication System offers centralized authentication for Unix and Linux systems.
ModSecurity - How safe is your web server? This powerful Apache extension will help keep intruders from getting control.
Monitoring Daemons - Why write a custom script? A few simple shell commands might be all you need to monitor system daemons.
VPNs with SSTP - Build a Windows virtual private network with the Secure Sockets Tunneling Protocol (SSTP).
Articles from ADMIN Issue 01
* Google Play Magazines available in AUS, CA, FR, DE, IT, UK, USA
---
---
---
Support Our Work
ADMIN content is made possible with support from readers like you. Please consider contributing when you've found an article to be beneficial.
---