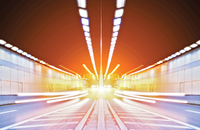 System Center 2012 SP1: What's new?
Central Perspective
Service Pack 1 expands System Center 2012 primarily in terms of features for virtualization and cloud computing. We provide the details in this article.
If you want to use Windows Server 2012, Windows 8, Windows RT, Windows Phone 8, or Exchange Server 2013, then SQL Server 2012 and SharePoint 2013 also need a compatible monitoring and management solution.
This is what System Center 2012 with its various products offers. However, the RTM version of the product is not compatible with the new Microsoft servers. You need the newly released Service Pack 1 [1] to support the individual products in System Center 2012.
Extended for the Cloud
Service Pack 1 (SP1) is not just a collection of bugfixes, it also expands the individual products in System Center 2012, adding many new features. The focus is on the integration of System Center 2012 with existing or new cloud services in Windows Azure – for example, Windows Azure Virtual Machines, Online Backup, and Global Service Monitor. The biggest changes are to System Center Virtual Machine Manager (SCVMM), System Center Configuration Manager (SCCM), and Data Protection Manager (DPM).
With this update, Microsoft has simplified the licensing of the new version and the combined editions. The new System Center 2012 [2] is available only as a package and is designed to improve significantly server management in the enterprise. The products can no longer be purchased separately. System Center 2012 mainly comprises eight products that cover all aspects of server management:
System Center Configuration Manager 2012 (SCCM) is mainly used for managing devices and installed applications. The new version mainly focuses on the users themselves and their changing equipment. Smartphones also can be managed with the new version.
System Center Operations Manager 2012 (SCOM) mainly focuses on monitoring servers and network devices installed with SCCM and complements SCCM.
System Center Data Protection Manager 2012 (SCDPM) is the data backup solution in the System Center. You can back up all your servers and manage backups centrally on the network.
System Center Service Manager 2012 focuses mainly on providing a central management interface and hub for all System Center products in the company, as well as creating, linking, and automating interfaces.
System Center Virtual Machine Manager 2012 (SCVMM) is used to manage the virtual servers on the network. Besides Hyper-V, it can manage other virtualization solutions such as vSphere. Many companies have licensed SCVMM outside of System Center and need to dig significantly deeper into their pockets for the new version.
System Center Orchestrator 2012 (SCO) helps automate IT processes. Microsoft renamed the acquired Opalis product to SCO and expanded the new version for administration tasks by adding PowerShell. Like Service Manager, the product is currently not very popular.
System Center App Controller 2012 helps centrally manage applications in the enterprise in a private cloud or a vendor's cloud. The tool provides templates for applications, which can be provisioned with other System Center products.
System Center Endpoint Protection 2012 is an antivirus tool that can be managed and distributed with SCCM.
Standard Edition gives small and medium-sized enterprises the ability to manage locally installed and virtual servers. The Datacenter edition is worthwhile for large companies. Both packages include all the System Center products, as well as the necessary licenses for installing a SQL Server database. The main difference between the two editions is in the installed operating systems they support. The Standard Edition allows you to manage two installed systems (Hyper-V host and a VM); the Datacenter Edition allows an unlimited number. However, only two processors per license are included in both editions. The CPU cores do not matter. A server with four processors therefore requires two licenses.
System Center Virtual Machine Manager 2012
Even if the current version of System Center is now only available as a complete package, separate service packs are available for all the products it contains. Besides supporting Windows Server 2012, for example, cloud environments are now supported. For example, System Center Virtual Machine Manager (SCVMM) 2012 now works with Windows Azure and can even create and manage cloud-based virtual servers. Microsoft also offers prebuilt virtual servers that provide SharePoint, Active Directory, and SQL Server. The virtual disks of these servers are stored in Windows Azure, with high availability on request. In this way, all virtual servers can be centrally managed, whether they run locally or in the cloud.
SCVMM SP1 or newer supports the new VHDX disks in Hyper-V 3.0 and Windows Server 2012. These disks can have a maximum size of 64TB (VHD files up to 2TB) and are much more resilient against system crashes. After installing Service Pack 1, the management interfaces of the various System Center products can also be customized to suit your own needs. This is especially important for SCVMM.
As of SP1, SCVMM can manage various virtual network switches on different Hyper-V hosts and Hyper-V Server 2012 in an improved way, as well as implement the new settings that Microsoft offers here. SCVMM also supports VMware vSphere 5.1 and vCenter Server with ESXi. Citrix Xen works particularly closely with SCVMM 2012. Citrix XenServer version 5.6 with Feature Pack 1 is also supported, but the use of Xen 6.0 and higher is recommended. With SP1, SCVMM 3.0 can also manage all the other new features in Windows Server 2012 and Hyper-V; Table 1 provides a list.
| Resource | Windows Server 2008 R2 SP1 Maximum | Windows Server 2012 Maximum |
| --- | --- | --- |
| Logical processors on the host | 64 | 320 |
| Physical memory | 1TB | 4TB |
| Virtual processors per host | 512 | 2,048 |
| Virtual processors per virtual server | 4 | 64 |
| Memory per virtual server | 64GB | 1TB |
| Active virtual servers | 384 | 1,024 |
| Size of virtual hard disks | 2TB | 64TB |
| Cluster nodes | 16 | 64 |
| Virtual servers in the cluster | 1,000 | 8,000 |
| Live migration | Only in the cluster | With and without cluster, live migration of disks |
| Replication virtual servers without cluster | Not supported | Supported |
Hyper-V Replica in Windows Server 2012 can replicate and synchronize virtual disks and entire servers asynchronously between different Hyper-V hosts on the network. The replication takes place via the filesystem; a cluster is not necessary. Administrators can manage this process manually, automatically, or on the basis of a schedule in SCVMM. In this way, virtual servers can be made highly available without the need to run an expensive cluster.
Hardware Acceleration
For better network performance, virtual servers now make more use of the hardware features of built-in network cards (e.g., in computations for IPsec). In the settings of virtual NICs, you can limit the network bandwidth of servers and filter out unwanted DHCP or router packages. These settings can also be controlled in templates for virtual servers in SCVMM as of SP1.
Another new setting is I/O virtualization with a single stem. This is also a hardware feature of network cards that now works in Hyper-V. Network cards that support this feature provide implemented I/O channels for virtualized environments; the card acts like multiple network cards to several virtualized servers.
comments powered by

Disqus
---
---
---
Support Our Work
ADMIN content is made possible with support from readers like you. Please consider contributing when you've found an article to be beneficial.
---