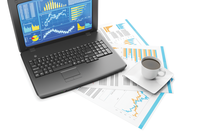 Alternatives to Google Analytics
Statistics Suppliers
Many companies that use Google Analytics to learn more about visitors to their websites worry about privacy issues. We looked at some useful alternatives.
Like a wolf in sheep's clothing, Google, as an Alphabet subsidiary, offers the Google Analytics online service for website traffic analysis. Although the website operator superficially reaps the primary benefits from this free service – which is why many companies add the Google script without closer examination – this does involve handing over a large amount of visitor data voluntarily to Google.
Focus on User Data
In addition to the free search engine, Alphabet offers the free Gmail email service, as well as Google Docs, a wide range of free office applications. The question is where the money comes from that gives the group the financial means to offer all its products free of charge. The answer is very simple: advertising.
To personalize and play out advertising in a better more targeted way, the group needs to know more about the user. What is the best way to discover the user's name, gender, and age? By offering a free service that requests precisely these data: Gmail. It is not just that Google gains knowledge of your personal data; Google's policies also allow it to examine email traffic. Google has built a habitat with all of its offerings, in which the collected data can be linked: the Google account. When you log in, you are providing a concentrated bundle of information. Often, users don't bother to log out of their Google accounts so that all searches carried out in Google are linked to the specific user account.
Free Services for Enterprises
The above offers are aimed primarily at individuals rather than companies. Of course, it is interesting for Google to know, with the ulterior motive of targeted advertising, who is looking for the company and who the company's customers are. What could be better than receiving the required data from the website visitors directly from the website operator itself? And this takes us nicely to Google Analytics.
To convince a company to provide the desired data, Google offers free and detailed statistics about website visitors in return. The whole process can also be easily integrated into your own website as a short script. There are virtually no obstacles in the way of taking advantage of the offer. However, there is a reverse side to the coin: Visitors to the website have no way to defend themselves against this kind of data collection. Operators may reveal the details in the legal section, but few visitors are likely to read that, and if they do, it is often too late and data has already been recorded.
Opt-Out Not User-Friendly
The negative connotations of Google Analytics has now reached the minds of Internet users. Users can defend themselves against having their surfing habits recorded by rejecting the transfer of data to Google Analytics before visiting an Internet site. This is done in the form of a small browser add-on that prevents running of the Google Java script.
The problem is that this plugin is not available for every browser. Especially on mobile devices, this approach will not work. This situation led to the obligation to offer an internal opt-out solution in 2013. If you are already using Google Analytics, you are obliged to give the visitors the possibility of opt-out – a link that lets users reject the acquisition of data by Google. And this has to work regardless of the type of the browser.
comments powered by

Disqus
---
---
---
Support Our Work
ADMIN content is made possible with support from readers like you. Please consider contributing when you've found an article to be beneficial.
---