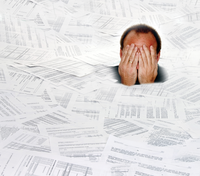 Goodbye Google Cloud Print
The Last Paper Jam
With the discontinuation of Google Cloud Print, we look at printing going forward in the enterprise.
Google Cloud Print could go down in history as the product with the longest beta phase – 10 years. At the end of 2019, Google announced that it was discontinuing its print service at the end of 2020. Users and printer manufacturers are probably equally disgruntled, because Google Cloud Print support is now a standard feature of many printers and will simply not work starting in 2021, prompting the need to put a similar printing environment on a new footing.
Google Cloud Print is leaving the stage at a time when cloud printing is becoming increasingly important in the enterprise. More than ever before, companies are ready to move their processes to the cloud. IT managers are confronted with new and higher compliance, security, and data protection requirements in their own data centers, which they are increasingly unable to meet. However, the more processes migrate to the cloud, the more likely plain vanilla on-premises processes will become disruptive.
As one of the most cost-intensive and error-prone processes, printing offers considerable potential. One good thing about the discontinuation of Google Cloud Print (GCP): Its end frees up space for new solutions. Providers of comparable tools (Figure 1) no longer face a cross-funded, free service from a market giant. It is to be hoped that GCP alternatives will develop in an environment of fair competition.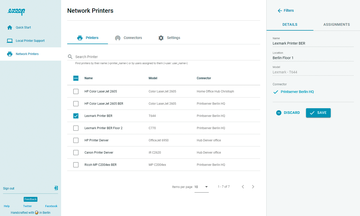 Advantages of Cloud-Based Printing
Google Cloud Print is not the only product for printing. Google points out that GCP can be replaced by existing native printing support. However, local native printing is not cloud printing; printing from the Google cloud offered some advantages. First is the complete independence of end devices from the existing printer infrastructure, which offers users a uniform, consistent printing experience across all end devices. Second, cloud printing supports mobile printing, even if the user is not on the same network. Although Apple AirPrint offers a simple approach to printing, it usually requires the printer to be accessible from the mobile phone network, which is never the case if the phone is not on the WiFi network. Even then, the printers are often located in another network segment.
Cloud printing is also ideal when printing needs to be done remotely rather than in close proximity to the user, such as printing a contract from the road to a printer in the back office or printing in remote warehouses. Printing from the cloud also supports external employees. Cloud printing makes it possible to dispense with local print servers, generating savings on hardware and on maintaining these components.
Beyond the possibilities of GCP, other scenarios are conceivable that local printing does not offer:
Integration of macOS computers into the existing printing infrastructure.
Print support for web applications – ideally implemented with a REST API so that, given appropriate integration, printing can be done directly from web applications to any printer, thus eliminating the cumbersome intermediate step of downloading a PDF to an end device before printing.
Management and assignment of printers. Especially in medium to large enterprises, it is not reasonable for the user to select their printer from the set of all enterprise printers. What may not be a problem with a 10-person start-up generates an unreasonable amount of work with 5,000 employees.
Security through printer vendor- and location-independent release printing (i.e., authentication at the printer). Ideally, the user always uses the same print object and only determines the location of the print output by triggering it at the printer.
Full reporting. If all print jobs are processed by cloud printing, then all statistical data are also securely stored in the cloud. In this way, complete reporting is possible and can then be supplemented with services such as Microsoft's Power BI or integrated into other processes.
Cloud printing for cloud-based desktops makes both the desktop and printing completely independent of the respective end device.
Payment functions. Printing is expensive. With the help of cloud printing, not only can costs be determined, but they can also be billed directly, which can be useful for hotels, co-working spaces, or even companies that provide their employees with printers for private use.
Printing does not take place in the cloud, but only the provision of printer drivers and the assignment of printers to users.
These points illustrate that, when migrating from Google Cloud Print to another platform, a functional step forward is possible. Cloud printing can be transformed from a simple tool to a strategic component of the user experience.
Choosing the Right Alternative
As mentioned, the demise of GCP sees a product disappear that may have blocked precisely the market it served. The expectation is that alternative vendors of suitable print tools will only develop after the disappearance of GCP. It is therefore perhaps advisable to plan for this disruption in the third and fourth quarters of 2020.
When replacing GCP, you first have to decide whether to take a step back to local, native printing – as recommended by Google – or to migrate printing to the cloud. This decision should be made in line with your current business strategy. If you opt for the cloud, you need to consider which local applications, cloud desktops, and web applications will use cloud printing. If you also need to support external parties who have access to printers, you need to decide whether these printing services will be billable. In this case, a reporting tool would be useful. Finally, investigate whether you can see the potential for increased productivity by improving support for field staff.
The answers to these questions will help you select the appropriate cloud printing offer. Once you have created a candidate list, you need to pay particular attention to the following points:
What does Active Directory integration look like? Is Azure Active Directory supported directly?
How is the document converted to the printer's target format? If local drivers are used, the administrative overhead for these drivers remains. If you have a universal printer driver, you should make sure the vendor has sufficient experience to ensure that this driver really works universally. On the other hand, rendering can take place entirely in the cloud.
What are the local requirements for sending and receiving print jobs?
Can the vendor be trusted to convince as many printer manufacturers as possible to support its solution natively (i.e., without additional software or hardware)?
What precautions does the manufacturer take with regard to data protection?
Are interfaces for web applications or the support of mobile devices scheduled or planned?
Conclusions
If you take these criteria into account, the discontinuation of Google Cloud Print could represent an opportunity to reduce costs and optimize your cloud migration strategy, transforming printing from a necessary evil to a positive experience. Although most people do not want to go back to paper-based processes, from time to time information on the printed paper is genuinely necessary. That said, you still have time to prepare to replace Google Cloud Print before the end of the year.
comments powered by

Disqus
---
---
---
Support Our Work
ADMIN content is made possible with support from readers like you. Please consider contributing when you've found an article to be beneficial.
---