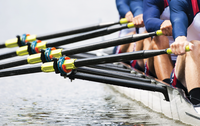 EGroupware, Group Office, and Kopano compared
Teamwork
We compare three popular packages that are designed to simplify teamwork: EGroupware, Group Office, and Kopano.
Groupware can streamline workflow in a company, but the functionality of different solutions varies greatly. For groupware to facilitate teamwork, it needs to anticipate the diversity of work processes and the historic structures in organizations of different sizes. As a flexible solution, it not only needs to modernize outdated processes, but boost efficiency and productivity, as well. In this article, I discuss the possibilities some groupware packages that are off the beaten track (see the "Not Considered" box) open up in a comparison of EGroupware, Group Office, and Kopano.
Because of the many groupware packages available, I specifically considered solutions whose functional range stands out from the crowd. The choices appear to be particularly suitable for certain target groups, thanks to a special focus such as security or ease of installation and configuration. I have avoided packages that are little known in the non-English-speaking world, such as Feng Office [1]. This review also ignores groupware packages for Linux that are, to a considerable extent, under proprietary licenses, such as Zimbra [2].
Conversion
If you are thinking of introducing a groupware solution, you need to consider several important criteria. In addition to the scope of existing functions, data protection and the ability to adapt to new working methods play a role. Open source applications help you take data protection seriously by running on an on-premises server so that data does not end up with third parties.
Two different strategies present themselves: With conventional client-server infrastructures, the data is stored on the server. Applications run on the clients to support collaborative processing of the data by the MAPI protocol. Web-based client-server systems, on the other hand, do not require applications on the clients. Instead, data and apps are stored on the server and users access them with a local web browser. This strategy naturally means less work for admins because they do not have to install and maintain client applications.
Distributed workgroups can also find it easier to use a private cloud solution as a service. Before taking this step, however, you need to consider the security aspects, such as whether you need end-to-end encryption.
Completely externally managed groupware solutions in the cloud usually means less work for the admin. The frequently time-consuming installation and configuration of groupware on a local server with additional services to match is no longer necessary. Software as a Service (SaaS) solutions are usually offered by groupware providers on a subscription basis; considerable costs can be incurred, depending on the size of the organization and the scope of features and support.
Additionally, an evaluation needs to take into account the modular structure of a groupware solution, which typically includes not only communication options and office applications, but also extension with industry-specific modules or customer relationship management (CRM) applications.
As home office work becomes more widespread, videoconferencing, chat, and other real-time communication features are being added. Finally, platform independence plays a role. Users can access cross-platform groupware systems with a smartphone or tablet and thus keep their data synchronized, even when on the move.
EGroupware
The German-based company EGroupware GmbH [3] offers a classic solution among the three candidates. The eponymous collaboration platform has been around for more than 15 years.
The package has been under continuous development, is licensed under the GPL, and is available in different flavors. Besides a free community version, EGroupware is available as a SaaS solution with different subscription models [4]. Licenses for the hosted solution cost around EUR20 per month, with special offers for schools and clubs.
An on-premises solution, several variants of which are available, supports use on dedicated servers on internal company networks under several price models that range between EUR40 and EUR50 per month for 10 users. If you want more, you can request a quote, but a free community version is also available, although it does lack some features and support services.
In the basic versions, the package comprises several groupware applications that can be supplemented by various modules. For example, admins can integrate Collabora Online (Figure 1), a complete office suite for document processing, and Rocket.Chat [5], a chat system tailored to the needs of companies. As an external videoconferencing solution, you can integrate the likewise free and proven Jitsi into EGroupware, if required.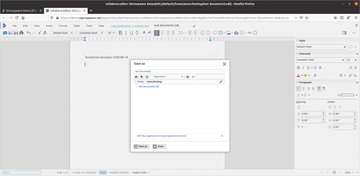 The Apache Guacamole [6] remote access software stands out as a particularly innovative extension of EGroupware, allowing users to run applications on a remote desktop PC from their local web browser and access programs that are not installed locally at their home office.
EGroupware can also be integrated into the Univention Corporate Server [7] from the App Center with just a few mouse clicks. This combination helps companies strengthen their IT-supported teamwork while integrating additional server applications that make it easier to manage services.
Smart Working
Under the Smart Working key phrase, the developers have grouped in-depth integration of EGroupware basic components with external additional services, which the groupware integrates into the application in the form of apps.
The central element is easy-to-set-up videoconferences with Jitsi Meet [8], which participants can use to talk to each other at multiple locations. Just pick the participants from the address book and set up an ad hoc videoconference without any further installation or configuration.
The admin has the choice of several Jitsi server variants: You can run a Jitsi server in-house, use a Jitsi back end hosted in the cloud with Docker, or simply hook up a public Jitsi server (e.g., [9]). A push message then signals an incoming call to the respective participants, and the videoconference starts when the call is accepted.
Another possibility is to set up a videoconference through the integrated EGroupware calendar; then, EGroupware uses the email module to invite the participants, who then receive a corresponding link. Jitsi is also used in this case without any additional configuration. Users who integrate Rocket.Chat as an external app in their EGroupware installation can also start a videoconference directly from within the chat program.
Another special feature of Smart Working is that it integrates external web-based services into EGroupware with OpenID authentication (e.g., for websites managed by admins with OpenID). This feature works from within EGroupware without manual intervention. Also, you can integrate Docker environments into EGroupware. The only requirement is that the services to be included must also use OpenID.
With similar technology, Guacamole also makes the desktops on certain computer systems at remote locations accessible in EGroupware. Guacamole establishes the connection over Remote Desktop Protocol (RDP) or virtual network computing (VNC). In this way, users can access the desktop on a remote computer in heterogeneous environments, even if it is running another operating system. You can therefore use web-based applications that are not installed locally on your system. For this purpose, EGroupware also activates authentication mechanisms that guarantee secure access.
comments powered by

Disqus
---
---
---
Support Our Work
ADMIN content is made possible with support from readers like you. Please consider contributing when you've found an article to be beneficial.
---