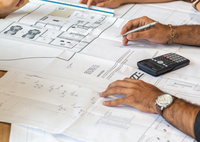 Manage projects in SMEs with OpenProject
Best-Laid Plans
OpenProject supplies sensible, comprehensive project management for SMEs with few financial inputs.
Many project management tools are complex and require large teams. Still, it is unwise for IT departments in small and medium-sized enterprises (SMEs) to do entirely without planning because the benefits massively outweigh the overhead. I look at project management from the theoretical and practical side and, after a brief introduction to the different types of projects, investigate how OpenProject can help IT managers.
Project Management
An entire industry focusing on project management has established itself in the enterprise sector. Scrum, Kanban, and many other approaches are promoted and sold along with tools and training. Major corporations have project management departments that dispatch their agile coaches to corporate departments on a needs-driven basis.
However, project management is largely dead in the water in smaller organizations. SMEs are usually not interesting enough for the large providers of agile training and certification because not enough revenue can be generated. Therefore, in many SMEs, project management is largely unexplored territory or, at best, restricted to the framework of what the typically small number of admins can handle. The idea that project management is not needed is a dangerous fallacy because many of the tasks involved in maintaining and operating servers in large corporations also occur on a smaller scale in SMEs.
These tasks must be completed just as diligently as in larger enterprises to avoid problems arising. SMEs, however, have significantly fewer human resources available to perform these tasks. As a rule, small businesses will need even better project management than large corporations; yet the SME is the place where project management is often in a deplorable state. This state of affairs does not have to be the default. Tools and instruments on the market make it possible to plan and keep track of projects, especially in the open source world.
Central Aspects
Project management is a bit like the cloud: Everyone who uses the word associates it with certain procedures, requirements, and processes; however, when two people talk about project management, it is quite likely they are imagining different things. Therefore, it makes sense to look at the fundamentals and several dimensions of project management before moving on to the practical implementation.
The first question is: What is a project? Administrators are confronted with different types of input in everyday life, each of which requires a different approach. For example, a help desk cannot be outsourced to a dedicated team in the vast majority of SMEs because a dedicated team simply does not exist. Instead, the IT team, which often consists of just one or two people, has to be the help desk. The problem with a classic help desk is that it can hardly be planned or spread in a meaningful way. If a user has a problem with the IT infrastructure, they usually expect immediate help because they otherwise simply cannot work. This kind of work has nothing to do with work on a project, but admins still have to keep it in mind, because it consumes a considerable amount of their time.
Work on the infrastructure can be planned. At least in principle, it is closer to the classic definition of a project. Installing new network storage, for example, can be such a case, and it can be broken down into quite a few smaller units. From planning, to requests for quotes, procurement, physical installation in the rack, and logical installation through commissioning, the process is delicate and usually has to be completed in stages. In this case, classic project management on the waterfall principle shows its greatest efficiency, because infrastructure work is difficult or impossible to implement in an agile manner.
Scrum and Kanban also envisage a development process divided into many small parts, but these parts are independent of each other over time. The question of whether feature A or B is implemented first depends on financial and product issues rather than physical necessity. In the case of infrastructure work, on the other hand, the individual steps need to be handled in sequence. A server that is not installed in the rack because it was delivered late cannot be given an operating system.
Agile project management for software development, however, is practically nonexistent in many companies because of the lack of in-house developers. Much depends on whether the SME itself is involved in software development as a field of activity. A small company that develops its own programs will usually take care of managing its internal IT as a side effect. However, the persons doing the work then have two jobs and would do well to demarcate those jobs.
Typical agile approaches and tools can certainly be used to develop a company's products – also within the framework of a larger team. However, in the Internet help desk role, it makes sense for IT employees to use the appropriate tools for completing internal projects, rather than tools that they may already be familiar with from their other role. On the other hand, people who operate the infrastructure in a law firm or carpentry shop will only rarely be confronted with this problem. No software development in the true sense takes place in these places; consequently, there is practically no need for agile methods.
The Right Tool at the Right Time
For SMEs in particular, choosing the right tool is of critical relevance. The bad news, however, is that no one tool covers multiple areas especially because the tasks at hand all differ.
Help desk tasks in SMEs should always be managed by software designed for this purpose. In this context, the smaller the company, the more sense it makes to use a cloud-based help desk. A number of ticket and incident management systems are on the open source market (e.g., OTRS or Request Tracker), but they are typically optimized for use in corporate groups and are therefore extremely feature rich. If you only need a tool to communicate with users in a structured way, OTRS will overwhelm you with its feature set. Tools like Zendesk (Figure 1) or Freshdesk are the way to go, even if they cost money.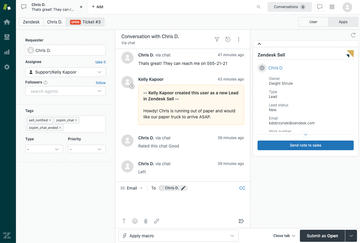 The choice of tools for agile project management in an organization should ideally be left to the implementing teams. Again, specialization is the be-all and end-all. If teams develop software in an agile manner, Scrum or Kanban can be useful approaches, but the decision should be up to the developers themselves.
For traditional in-house IT in SMEs, that leaves only one type of project that occurs on a regular basis: infrastructure work on the waterfall principle. The good news is that admins who otherwise largely fight a losing battle without any help can serious simplify their lives with a basic but functional project management tool. However, quite a few applications on the market vie for your favor – even if you restrict the field to tools with an open source background. That said, the top dog in this segment is OpenProject [1].
comments powered by

Disqus
---
---
---
Support Our Work
ADMIN content is made possible with support from readers like you. Please consider contributing when you've found an article to be beneficial.
---