Test Lab: Fedora 16
Virtualization Solutions
Although Red Hat mainly focuses on KVM as its centralized virtualization solution, the version of kernel 3.1 included in Fedora 16 also offers a decisive improvement to the free alternative Xen in the form of Dom0 support. In addition to this, the Red Hat developers have completed a number of improvements to the Virt Manager graphical interface (Figure 2).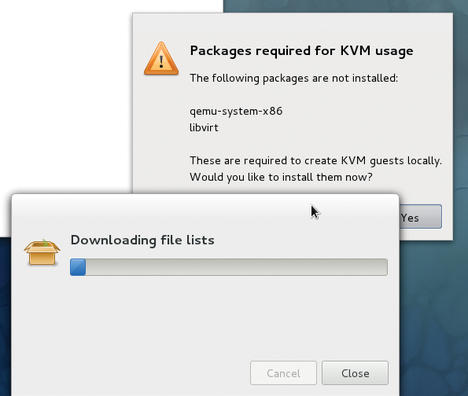 Administrators can use Virt Manager to glean far more information about the status of active guest systems, and they can use it for read access to guest filesystems.
You can even inspect the registry on Windows guests. And Fedora 16 uses the Virtual Machine Lock Manager to prevent two virtual machines from accessing the same disk image at the same time; this could be fatal, and it could happen if an administrator were to launch the same virtual machine twice. Fedora 16 comes with a new version of the Spice protocol, which Red Hat developed as a centralized component for its RHEV server virtualization, and Fedora is now also capable of sharing USB devices between the guests and the host (USB pass-through). You can also redirect USB to other hosts on the network and synchronize the volume between the virtual machine and the host system.
Having said this, Spice still doesn't offer 3D support, so GL effects on the guest system remain unavailable. You can download various editions ("spins") of Fedora 16 from the project website. The Gnome release notes and Fedora release notes offer more details about the features in Gnome 3 and Fedora 16.
Conclusions
As the Fedora 16 code name "Verne" suggests, the Fedora project continues to build a bridge to the future. Part of the project's vision is to develop a reputation as the distribution with the latest technology. Earlier versions have shown that this philosophy doesn't automatically make Fedora the distribution with the most satisfied users. That said, the Red Hat developers don't aim to make Fedora the best desktop distribution on the market; their ultimate goals is to test their own developments, which then flow into other products.
Although the Fedora 16 desktop has many advantages over Unity, Fedora 16 fails to overtake Ubuntu as the best desktop distribution – mainly because the Fedora user interface makes it more complicated to install proprietary components such as codecs or players retrospectively. As a server distribution, Fedora 16 offers some technologies that you will not find in this form in any other distribution. Incidentally, Fedora 16 is dedicated to Unix pioneer and co-author of the C programming language, Dennis Ritchie, who passed way in October 2011.
The Author
Thomas Drilling has been a freelance journalist and editor for scientific and IT magazines for more than 10 years. With his editorial office team, he regularly writes on the subject of open source, Linux, servers, IT administration, and Mac OS X. Additionally, Thomas Drilling is a book author and publisher, a consultant to small and medium-sized companies, and a regular speaker on Linux, open source, and IT security.
comments powered by

Disqus
---
---
---
Support Our Work
ADMIN content is made possible with support from readers like you. Please consider contributing when you've found an article to be beneficial.
---