Office 365 vs. Google Apps
Collaboration on the Web
The team website in Office 365, which is based on SharePoint Online, lets users store documents at a central location and edit new documents or tables in the web-based version of the office applications (Figure 4).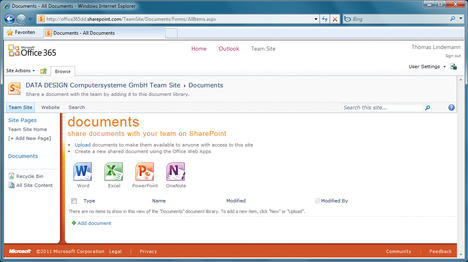 All this, including sharing all of these documents with other users, can be done from any PC via the integrated Office Web Apps.
Additionally, you can use the team website as the landing page for your own domain; in this case, users who are not logged in will see a normal enterprise website. The Office 365 administrator or any other user with corresponding authorization can easily modify the website design to reflect their corporate look.
Google Apps Overview
Google Apps for enterprises was introduced four years ago and offers corporate users access to the Google Mail, Calendar, Contacts, Chat, and Sites services, as well as text and tables for use within their own domain. As with Office 365, all you need is the domain, which you can assign via the administration dashboard after registering with Google Apps (Figure 5). Like Office 365, Google requires you to legitimize by creating a DNS record.
In contrast to Office 365, Google Apps offers administrators a plethora of settings, although it looks very cluttered initially. One of Google's advantages is the integrated marketplace, which has grown considerably in the past couple of years. It gives users the ability to purchase additional third-party applications to support message archiving, for example, or to integrate a web-based CRM solution. You can use a Google Apps accounts to configure the web interface (Figure 5) for sending, receiving, and managing mail, and for creating and editing contacts.
Just as Lync is integrated into the Outlook Web App, the Google Mail web interface integrates the Google Chat feature (Figure 6).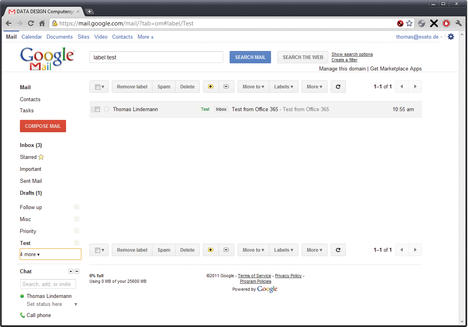 This feature also supports audio and video calls and global phone calls in any browser, in contrast to Lync, which needs a Windows client to do this.
Google Mail also offers a Windows client and is pre-installed on any Android device. As of Android Version 2.3.4, Google Mail enables support for video telephony using smartphones and tablets. What Google Mail currently lacks is an integrated calendar function. For now, you need to open a calendar in a separate web interface.
Google Sites is another core component in Google Apps. Google Sites lets you create templates for building websites for project collaboration or for creating an intranet. This is also possible in Office 365 using SharePoint Online. In other words, Google Apps also gives you the option of storing documents, tables, and even providing images for all of your users in a centralized location.
If you need an option for collaborating on documents, tables, and presentations, don't forget Google Docs (Figure 7).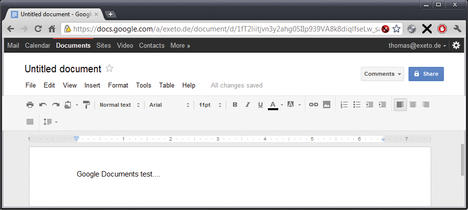 This operating system-independent tool serves browser-based collaboration on documents or spreadsheets in real time. For example, you can see in real time how other users make changes or add comments within a document.
comments powered by

Disqus