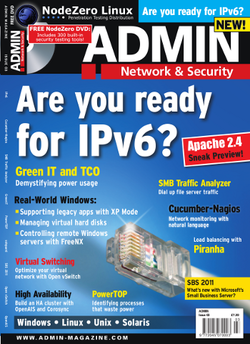 Issue 3: Are you ready for IPv6?
In this issue, we study IPv6, the art of bug hunting, behavior-driven monitoring, and real-time data analysis.
Download this issue as a PDF:
100 pages
Price $15.99

Don't miss an issue of the magazine for admins! Subscribe now!
Issue #3 will be shipped to subscribers and available on newsstands starting approximately:
UK/Europe: April 18
North America: May 13
Australia: June 13
IPv6 - Prepare to meet the IPocalypse. Find out how to run a mixed IPv4/IPv6 network.
Interview: Dan Rosenberg - Discover the tools and techniques of a Linux kernel security bug hunter.
Cucumber-Nagios - This Ruby-based Nagios plugin uses natural language to monitor performance.
SMB Traffic Analyzer - The SMBTA demon and RRDtool help you visualize data throughput on Samba CIFS servers.
Green IT - We take a close look at the IT power footprint and compare the cost of replacing equipment with upgrading.
Tools: Save time and simplify your workday with these useful tools for real-world systems administration.
PowerTOP - This useful tool helps you identify Linux apps that keep the CPU from entering sleep mode.
sshguard - This specialist monitors your system to look for evidence of brute force attacks.
Small Business Server - Find the right version of SBS 2011 for your network.
News: Find out about the latest ploys and toys in the world of information technology.
News - Monitoring support for IPv6, AWS static website support, and other developments.
New Products - VMware on the iPad, MAPI support in Open-Xchange, home office VPN help, and a new laptop for the road warrior.
Virtualization: Virtual environments are becoming faster, more secure, and easier to set up and use. Check out these tools.
Virtual Enterprise Switch - Open vSwitch supplies virtual switches for virtual systems.
Linux Clusters - Set up high-availability clusters with OpenAIS and Corosync.
XP Mode - Support legacy XP software and parallel or serial hardware with XP Mode.
Interoperability: Make sure the components of your mixed operating system environment "play nice" with each other.
FreeNX - Remote access to Windows servers with two-factor authentication.
Management: Use these practical apps to extend, simplify, and automate routine admin tasks.
Func - Manage groups of servers with the Fedora Unified Network Controller (FUNC) remote access tool.
Piranha - We show you how to set up IP-based load balancing for a virtual cluster using Red Hat's Piranha.
Nuts and Bolts: Timely tutorials on fundamental techniques for system administrators.
Secure FTP on Solaris - Create a secure chroot environment for FTP users.
Apache 2.4 - Transition smoothly from Apache HTTP Server 2.2 to 2.4.
Windows Virtual Hard Disks - Unlock the power of Windows 7 VHDs.
System Center Essentials - Manage virtual and physical server installations with Windows SCE 2010.
Daily Updates - Recover from ill-advised updates on your Linux systems.
YubiKey - A hardware-based two-factor authentication solution.
* Google Play Magazines available in AUS, CA, FR, DE, IT, UK, USA
---
---
---
Support Our Work
ADMIN content is made possible with support from readers like you. Please consider contributing when you've found an article to be beneficial.
---