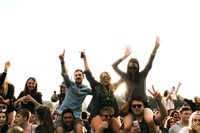 Legally compliant blockchain archiving
All Together Now
Unite multiple data warehouses and data silos set up for ERP, tax compliancy, and EAI/ESB processes with blockchain-archived data.
A tax-compliant archive, a data warehouse, or an enterprise resource planning (ERP) system largely processes the same data, but unfortunately with a different persistence level. Companies can no longer afford this kind of redundancy. Deepshore provides an alternative concept that draws on blockchain as an important component in its implementation and thus adds often-missed value to the overall system.
Superfluity
As if the sheer volume of electronic information were not already challenging enough, virtually all large companies in this country allow themselves the luxury of processing data multiple times and then storing the data redundantly. Even today, the areas of archiving, data warehouses, and ERP are still organizationally and technically isolated. IT departments do not like people seeing their hand, and setting the isolation of applications in stone does not make it easier to design solutions across these system boundaries.
Different approaches for merging all data on a single platform include the many data lake projects of recent years. Such undertakings, however, were rarely driven by the desire to store data centrally to make the data usable across the board; rather, they were set up primarily to evaluate its content (e.g., as Google did) and use the knowledge gained in a meaningful way to optimize business processes.
Typically, companies in the past stored quite large amounts of data in a Hadoop cluster and then began to think about how to extract its added value from the dormant treasure trove. In many cases, such projects have not been able to realize their promised benefits, because it is not trivial to master the diversity of platform components in their individual complexity. To avoid this complexity, as it was 15 years ago in the ERP environment, it is still common today to react to every technical application with a systemic standard response. Now it is essential
...
Use Express-Checkout link below to read the full article (PDF).
comments powered by

Disqus